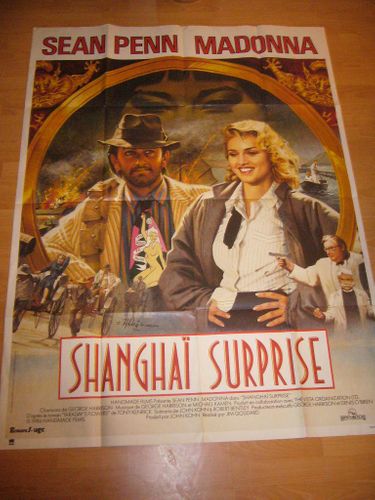 1986 Movie Poster Sean Penn Madonna 1986

HAND MADE FILMS PRESENT

CHNSIQUE DE GEORGE HARRISON

SIZE 47' x 63"

PRODUIT PAR JOHN KOHN

REALISE PAR JIM GODDARD

PRODUCTEURS EXECUTIFS GEORGE HARRISON ET DENIS O'BRIEN



EUROPE1/.UGC

musique de george harrison

GOOD CONDITION HAD BEEN FOLDED

Shanghai Surprise is a 1986 film starring then-newlyweds Madonna and Sean Penn, produced by George Harrison's Handmade Films. Harrison appeared as a night club singer, and also recorded several songs for the film's soundtrack including the song "Breath Away From Heaven", which was re-recorded and released on his album Cloud Nine. The Soundtrack for Shanghai Surprise was never released as a record or CD, and was only briefly available as a promotional single featuring the title song "Shanghai Surprise" and "Zig Zag"[1]. Both of these songs have since been released as "additional tracks" on the 2004 release of the "Cloud Nine" CD.

The screenplay was adapted by John Kohn and Robert Bentley from Tony Kenrick's 1978 novel Faraday's Flowers. The book was reprinted (under the film's title and with a film-centric cover) as a piece of tie- in merchandise for the film.

The movie was panned by critics and failed at the box office. It was nominated for five Golden Raspberry Awards, "winning" one of them, for Worst Actress. For Madonna, the movie was a downturn in her acting career from which she never fully rebounded, though her efforts in Evita met with critical acclaim and a Golden Globe Award for Best Actress.