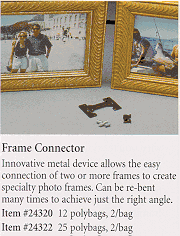 Picture Frame Connector/Art Supply by carina picture frame since 1989

12 PAKG FOR $33.50

25 PAKG FOR $64.50

100 PAKG FOR $258.50 Innovative metal device allows the easy connection of two or more frames to create specialty photo frames.can be re-bent many timesto achieve just the right angle.

A new and easy device that allows you to connect wood to wood, metal to metal and/or metal to wood picture frame without the complications of a hinge. Connect 2, 3 or more frames together. Frames can be adjusted forwards, backwards or to any angle you desire. FrameConnector™ is so easy to install.