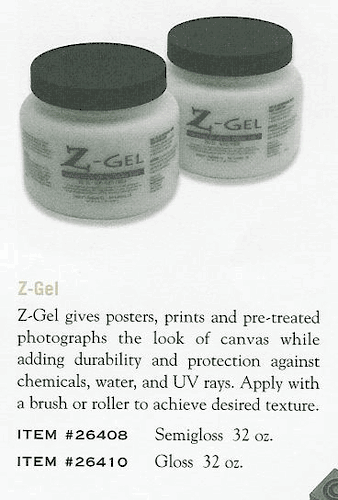 Z Gel Canvas Art Texturing Gel all Framing Needs by Carina Picture Frame

Product Description

32 OZ $57.00

1 GALLON $166.00

5 GALLON $750.00

Z GEL THE ONE STEP TEXTURIZING PROCESS FOR POSTER,PRINT,PHOTO.

IS A GREAT ALTERNATIVE TO CANVAS TRANSFER AND ELIMINATES NEED FOR GLASS.

YOU CONTROL THE BRUSH STROKE APPEARANCE..........

AND THE AMOUNT OF DETAIL YOU WISH TO ACHIEVE..........

NO PREPREP OR SPRAYS NEEDED,SIMPLY MOUNT PRINT DIRECTLY TO BOARD OR FIRM SUBSTRATE.

Z GEL CTEATE A 100% ACRYLIC POLYMER EMULSION,YIELDING A FILM WITH EXCELLENT FLEXIBILITY AND CHEMICAL,WATER AND UV PROTECTION. CLEANS UP WITH SOAP AND WATER.

LOOKS OF CANVAS ON ANY TYPE OF PRINT . .